Further to my post #528, McGill's Eastern Scottish's service 31 is withdrawn after operation today, 15 October 2023. The City of Edinburgh Council contracted services 20, 63 and 68 are due to be retendered in 2024. 
Lothian Country has announced that it will operate additional services from 3rd December to cover most of the areas formerly covered by Eastern Scottish. It appears that Lothian Country will not serve Blackridge, Livingston South and Livingston Village. West Lothian Council has issued a tender for a service to Blackridge.

Lothian Country announces plans for two new routes in West Lothian
Changes to Lothian Country network from Sunday 3 December 2023
October 11, 2023
Lothian Country has today (11 October) announced its intention to register two new routes and extend another in West Lothian from Sunday 3 December.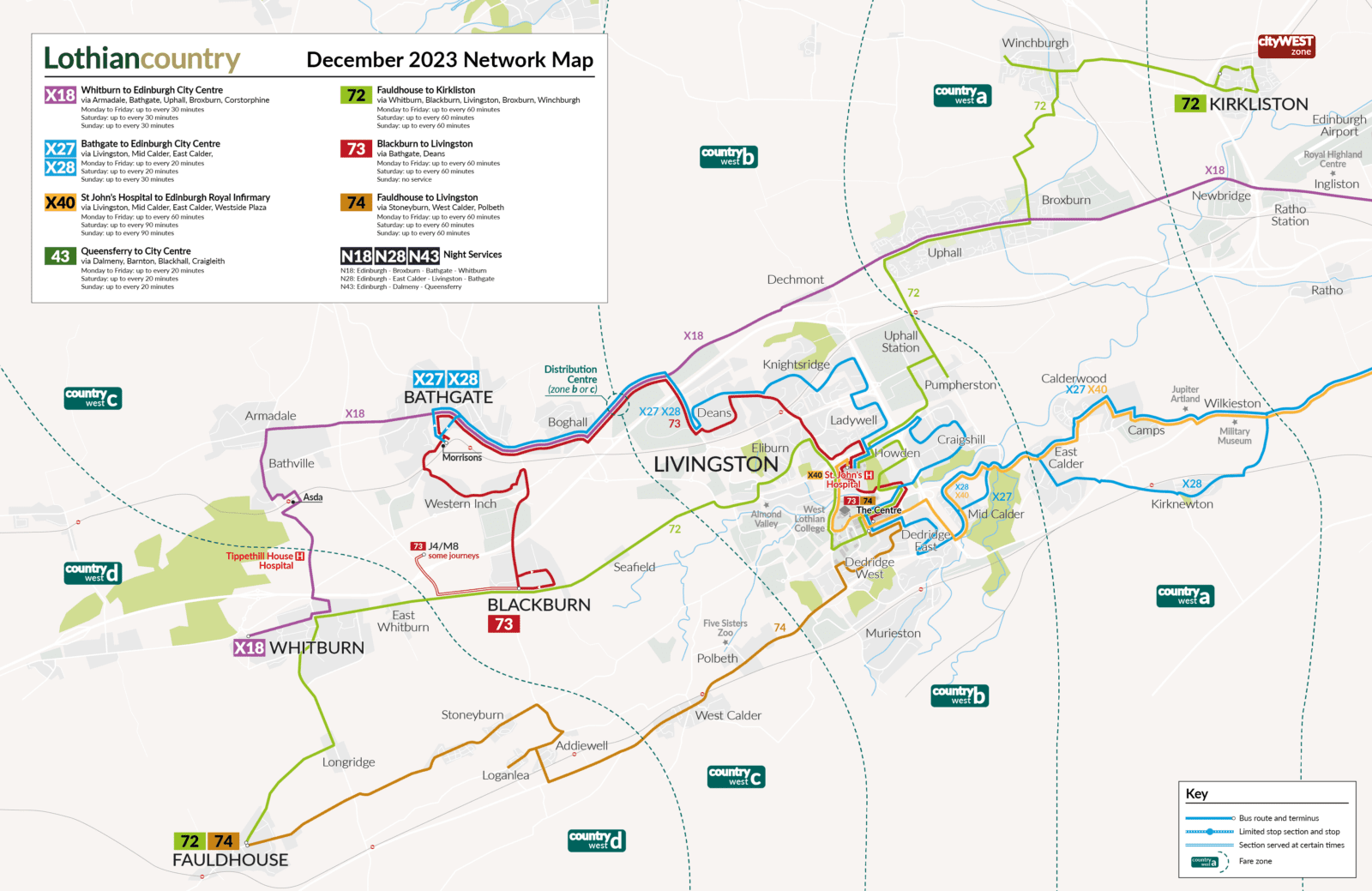 Extended Service 72 will operate between Kirkliston, Winchburgh, Broxburn, Uphall, Uphall Station, Pumpherston, St. John's Hospital, Livingston Centre, Eliburn, Blackburn, Whitburn, Fauldhouse. This service will run hourly, between 0700hrs and 2100hrs, 7 days a week.

NEW Service 73 will operate between Livingston Centre and Blackburn via St John's Hospital, Livingston North, Deans South, Boghall, Bathgate and Wester Inch. This service will run hourly, Monday to Saturday between 0700hrs and 2000hrs.

NEW Service 74 will operate between Livingston Centre and Fauldhouse via Dedridge, Polbeth, West Calder, Loganlea, Addiewell, Stoneyburn and Bents. This service will run hourly, Monday to Saturday between 0700hrs and 2000hrs and Sunday between 0900hrs and 1900hrs.

Sarah Boyd, Lothian Managing Director said: "Operating safe, reliable services is the backbone of our business and our teams have worked extremely hard to stabilise our existing operation to be able to confidently provide a robust and reliable service for customers.

"It is no secret that the last 3 years have been extremely challenging for our industry and as a commercial operator, with only 0.4% of our revenue coming from subsidised services, it is vital that any new service achieves the level of customer usage required to make it financially viable.

"Lothian Country is proud to be a part of the communities that we serve and our team is absolutely focused on running reliable services for those who rely on us."

Lothian Country have been operating in West Lothian since August 2017. The operator took the difficult decision last year to review its network in entirety, making significant changes to its service provision in the area to improve reliability while continuing to ensure as far as was reasonably possible that all communities would continue to have access to a bus service.

https://www.lothianbuses.com/news/2023/10/w_l_l_c/